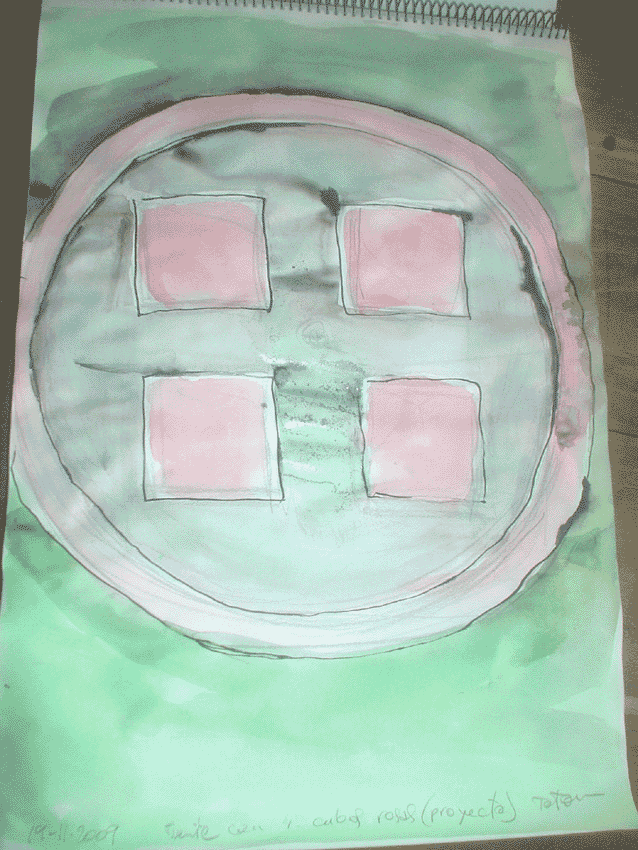 acrilica sobre carton 2008 /200 cm/360cm + ó –
Font sketches: container and content
It is striking, in the work, the importance given to the birth of the symbol; how mysterious it is and how deeply dramatic its appearance is.
From my humble experience, I would dare to say that the situation sometimes gets complicated, until it reaches a point where I feel absolutely incapable of finding, in any way, an answer, and suddenly, to my amazement, it emerges, surprising me and shaking the whole system, until the established moment and without the possibility of choice. Then the debate is imposed, the discourse on its uselessness or inconvenience, the eternal defense of established interests, the danger of their abandonment, and above all that, there it is, unscathed, before that avalanche of useless excuses, of resources sterile, always creating life, forcing us most of the time, to be ourselves. The challenge, for me at least, is not easy.
Suddenly, an image, then a pain, a limiting situation, without the possibility of resolution, and when you leave, when you recognize your limitation, it imposes its content, as if remembering that you are only that, its way of manifestation, when this happens, you perceive Grace, and you know who the boss is.
Bocetos de fuente: continente y contenido
Llama la atención, en la obra, la importancia que se da al nacimiento del símbolo; lo misterioso del mismo y lo profundamente drámatica, que resulta su aparición.
Bajo mi humilde experiencia, me atrevería a decir que la situación a veces se complica, hasta llegar a un punto en que me siento absolutamente incapaz de encontrar, en modo alguno, una respuesta, y de repente, ante mi asombro, surge, sorprendiéndome y conmoviendo todo el sistema, hasta el momento establecido y sin posibilidad de elección. Se impone despues el debate, el discurso sobre la inutilidad o la inconveniencia del mismo, la eterna defensa de los intereses establecidos, el peligro de su abandono, y ante todo eso, ahí está, incólume, ante esa avalancha de excusas inútiles, de recursos estériles, creando siempre la vida, obligándonos las más de las veces, a ser uno mismo. El desafio, para mi al menos, no es facil.
De repente, una imagen, despues un dolor, una situación limite, sin posibilidad de resolución, y cuando abandonas, cuando reconoces tu limitación, impone su contenido, como recordando que sólo eres eso, su vía de manifestación, cuando esto sucede, percibes la gracia, y sabes quien es el jefe.