Antonio García Calvente
Antonio García Calvente (art firm Totom) was a contemporary painter expressionist, abstract and symbolist painter, with a spiritual, Jungian and philosophical mystical style. A spanish artist from Madrid, born in 1957 and died in 2015. His artistic work revolved around inner development and growth, and he addressed different styles of art: painting, sculpture, muralism, engraving, ceramics, etc..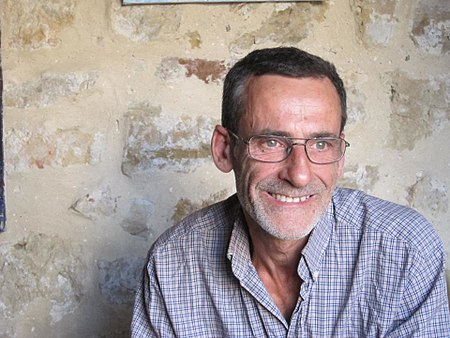 Biography
His artistic training was developing in various fields of both formal and non-formal education or self-taught.
In his youth he attended the School of Applied Arts and Artistic Trades in Madrid, training with Maestro Enrique Gil Guerra and developing in various artistic techniques and specializing in drawing .
He began his professional activity at the age of 17 and already in the beginning he received awards and mentions for his work.
The first works that we have evidence of are around his 15 years of age and from here until the end of the 80s his works are clearly marked by his emotional experience. They are mostly oil paintings , watercolors or sketches . Many portraits and self-portraits with marked contemporary realism . Throughout these years he has also specialized in creating enamels with traditional techniques and his own techniques.
Antonio García Calvente, at the end of the 70s , with more than two hundred works sold, he gave a turn to his work, beginning to sign as "Totom".
During the 80s he continued his creative process, evolving naturally towards a colorful impressionism marked by realistic forms . At this time his pictorial technique was established in oil works , blending colors with spatulas and juxtaposing the different shades , colors and shapes in a search to achieve harmony within the realism of the model.
In 1987 , having already been artistically recognized with the First Prize in the Sestao Painting Contest , in the province of Vizcaya , he decided to move to Talavera de la Reina ( Toledo ), known for its ceramic tradition . He began to develop in the Art of Ceramics with Master Felipe Espínola from the "Ruiz de Luna" School, working likewise, in different Alfares: Artesanía Talaverana, Froilán, Mancebo. A task that will provide you with ease, freedom of expression and capacity for development in your work. He begins in techniques of the Contemporary Ceramic Mural and begins to make Calcographic Engravings with the MasterJuan Carlos Jiménez Moreno , professor at the University of Fine Arts in Madrid.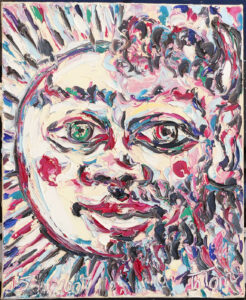 Parallel to his artistic work, he began an inner search that led him to study Taoist philosophy , and thus he trained in Chi Kung for years. At the same time, he studied Traditional Chinese Medicine and Acupuncture at the Neijing school with Master Jose Luis Padilla, completing his complete training in 1992. During this time he also began a personal study of alchemy and the nature of the human psyche, a deep study that he will develop at throughout his life from the work of Carl Gustav Jung .
This personal work introduced him to a universal symbolism, which, through simple language, helped to connect with the deepest part of being. A more intimate language, not so technical, that gave him ease and freedom.
From this moment on, his work arises from deep meditation and an encounter with being. A symbolic and intimate art that leads him to try to represent a path towards emptiness and consciousness.
In these years and until 1995, landscapes and still lifes predominate in his oil paintings, each time with a more impressionistic touch, preserving the original model in detail and marking a harmony in light and color.
Since 1995, Antonio García Calvente continues his artistic journey in Madrid, his hometown, and a turn is quickly generated in the search for new artistic concepts, beginning to make murals, interior decorations, restoration of antique furniture, architectural studies, engravings and ceramics with more personal techniques.
He created the "Totom Art Workshop", developing an original work of painting , sculpture , watercolor , engraving , ceramics and decorations in Vizcaya , Talavera de la Reina , Palma de Mallorca and Madrid and making orders to all of Spain, China , USA , Greece , Italy , England , Australia , etc. Working simultaneously as a teacher of creative painting and drawing.
Solo exhibitions in life
Ortuella, Baracaldo, Portugalete, Gorliz, Talavera de la Reina, Sala Paradís in Madrid, different centers and galleries in Madrid, Casino de la Reina and Puerta de Toledo in Madrid, Art Workshop 17, Art Fairs by "Faim", "FEDIPICA , Las Rozas, SOS RACISM 2007, Progress and Culture Foundation 2008, Blueleaf Gallery (Dublin, Ireland). Bellabruta Gallery (Dublin, Ireland), Contemporary Museum of Guatemala, Nazario Recinos. "Malone" Art Gallery (Madrid), Artépolis Multicultural Room (Madrid), "El Torito" Cultural Center (Madrid), "Eduardo Chillida" Cultural Center (Madrid), "Dopazo" Art Gallery (Madrid), Gabana Restaurant ( Madrid), Fonda "La Lechuga" (Madrid), Mesa Burgos (Madrid), Fundación Progreso y Cultura (2007 Madrid), Edificio del Reloj (Sepulveda). Exhibition of oil paintings in Las Escuelas de Siguero (Segovia) in 2013. He carried out the exhibition of ceramics and sculptures in Barceló (2014). Likewise, he participated in multiple collective exhibitions and fairs in Madrid over the years.
Decorations and murals in Madrid, Spain
"El Claustro", karaoke "Caroni", flamenco tablao, fountain, façade and decorations in "Dudua", façade of the interior patio, "Chico" mural park, decorative murals for "Mundo-mascot", "Parque de las Naciones", scenography and decoration of plays by Guillermo A. del Real, murals and landscape decoration "Manuel Ruiz @ Marta García", mural "Sky at sunset" in a private home.
Awards and mentions
First Prize Painting Contest in Sestao (Vizcaya)
Selected in "Ertivil" (Itinerant exhibition of the Basque Government)
I was selected in "Enrique Ginestalt", Talavera de la Reina (Toledo).
Selected in the first place Selection of Painters of the Circle of Fine Arts of Madrid
Selection Casino de la Reina and Puerta de Toledo