Catálogo de arte paisajes urbanos Art catalog minimalist urban landscapesminimalistas
Art catalog of the painter Antonio García Calvente Totom, with the series of watercolors Pasos por la ciudad.
Urban Lansdcapes
Urban landscapes reflect a daily vision for everyone, they show us the city, its spirit, its movement.
An urban landscape shows something to which one is accustomed, what one sees in the city, but rarely realizes it.
We constantly hear those footsteps of each citizen, of each passerby, those noises, those voices, without realizing their linearity, or the chaos, or the order in that chaos.
They are anonymous voices, anonymous steps, that we do not know, ignore and ignore.
Abstract minimal style
Thanks to the minimalist style, it easily brings us closer to a constant and pulsating sensation in the frequent rhythm of the city.
The compositions consist of two quadrangular colored structures that indicate the buildings, painted, not as purposes of wandering, but rather as what limits us and establishes order.
Between the two structures we find acrylic stains symbolizing people walking, their steps and their journey without leaving their line. Sometimes messier, sometimes more still and rigid.
Steps through the city
Pasos por la ciudad are a set of minimalist abstract watercolors that describe an urban landscape, or rather, the feeling and moment of people walking through the city.
They are paintings made observing the confusing and precise moment where good and bad news capture the mind, leading us to wander through the streets of Madrid.
The streets of the city are seen as spaces that corner us, trap us, change us, and one day we see ourselves there, wandering aimlessly, without seeing the horizon from afar.
They are curiosity, the traps of the city, and its linearity, together with the incessant footsteps and thoughts of lost walkers, small, as insignificant as drops of paintings whose footprints can be erased by the same water.
Technique and measurements
With a mixed technique of acrylics and watercolors on paper, these original pieces by Antonio García Calvente, were made in August 2007 in a Madrid wandered by workers, idlers, children, onlookers, tourists and beggars.
Size: 40x30cm
The type of paper is cold pressed, heavy weight
All the pieces are dated and signed Totom on the front, artistic signature of Antonio García Calvente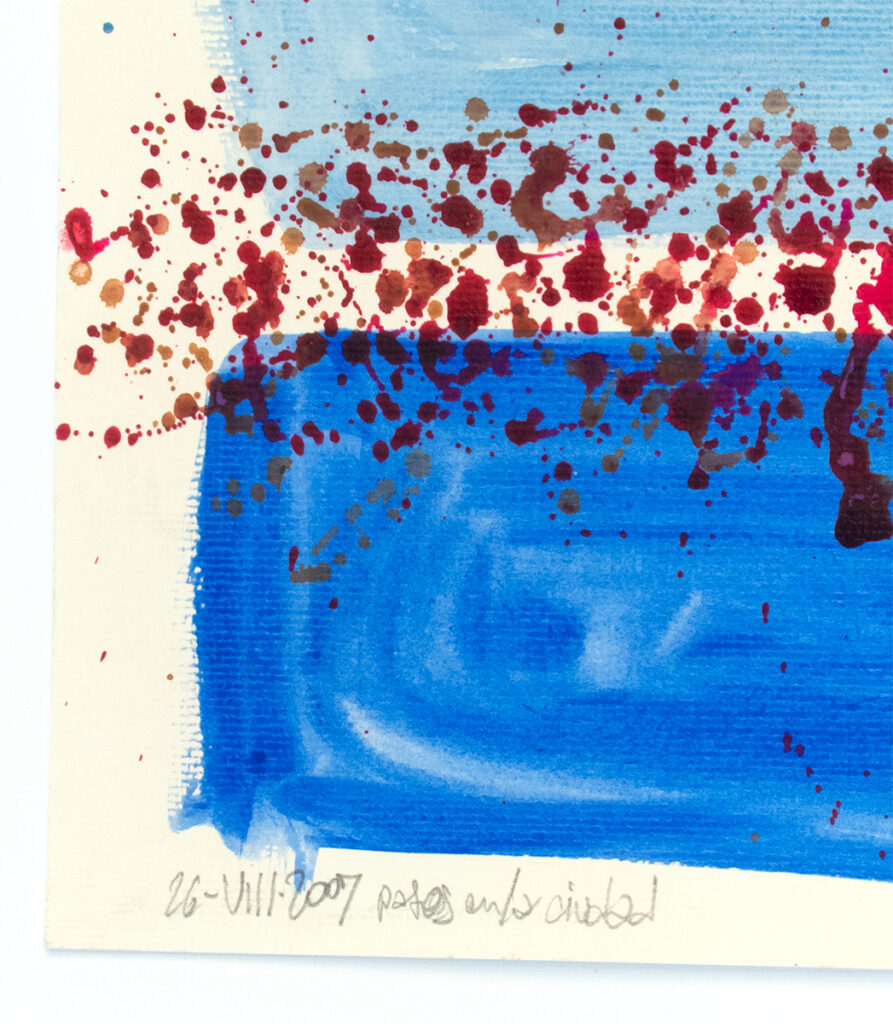 Gallery Art totom
In the painter's legacy, only 18 samples of this series remain in stock, for this reason we open the possibility of acquiring prints for those who wish to have a peculiar work of art, urban landscape, minimalist abstract, in their hands.
From Gallery Art Totom we manage the sale and transport of these collectible pieces of art.
Paintings by Antonio Garcia Calvente